KeeDome Mini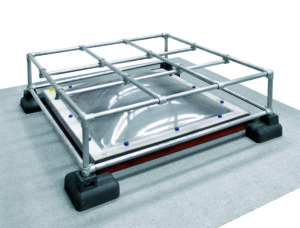 is the small version of the standard KeeDome system from KeeSafety and is especially advantageous due to its low construction height.
The freestanding fall protection system is especially suitable for smaller openings and skylights. The systems can be installed to all kinds of flat roofs with a slope of up to 3 degrees.
The low construction height of the system enables a discreet securing of danger areas. It is therefore the perfect solution, if the fall protection system is not meant to spoil the aesthetics of a building.
This way security and visual demands can be combined. As a matter of course, KeeDome Mini meets the standards EN ISO 14122-3.
Due to the fact that the low guardrail system itself would not secure the endangered are sufficiently, a mesh panel is going to be installed above the skylight. This prevents people from falling through the dome.
KeeDome Mini is as well installed with special feet that weigh 10 kg each. They stabilize the whole system and enable a non-penetrative fastening. Moreover, they do not present the risk of tripping, as they are compact and therefore not bulky at all.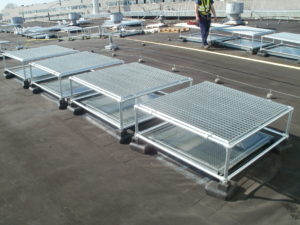 The system was designed for skylights that have the size 1,2m x 1,2m. In case that your skylight differs from this size, we will find a special solution for you and we are going to adjust the system in a way that it will meet your requirements.
The fall protection system is composed of vertical posts, hand and knee rails, tubular fittings and PVC special feet. KeeDome Mini is offered as a ready-to-install set that can be pinned together easily. This makes an easy and highly time-efficient assembly possible.
The system is reusable thanks to its modular plug-in system. Apart from the recyclable PVC special feet, the guardrail system is fully made out of hot-dip galvanized steel.
---
Short Profile:

Material:
Hot-dip galvanized steel
PVC

Certificate:
Declaration of conformity according to
EN ISO 14122-3
Span:
1,2m x 1,2m
Area of application:
Rooftops with a slope of up to 3°
Tube diameter:
33,7 mm
Assembly type:
Non-penetrative
Usage:
Permanent securing
Weight:
10 kg per special PVC foot
---
Downloads
Produktbroschüre KeeDome Mini
Declaration of conformity EN ISO 14122-3
---
Go to Domoguard >>