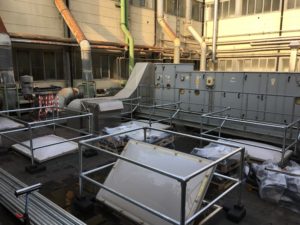 KeeDome from KeeSafety is a free-standing fall protection system for skylights, roof hatches and in general for all sources of danger where the risk of falling through exists.
The systems can be installed to all kinds of flat roofs with a slope of up to 3 degrees.
Due to the fact that flat roofs are entered regularly for works such as maintenance tasks, roofs need to be secured appropriately.
Not only roof edges involve a certain risk of falling – there are way more possible sources of danger that tend to be underestimated.
Most skylights are considered to be more stable than they truly are, whereas only a small number of skylights can actually be walked-over. This makes reliable skylight fall protection systems absolutely necessary. KeeDome protects people against this kind of danger by preventing possible fall-troughs.
Special feet, which weigh 10kg each, stabilize the guardrail system. They are made out of recycled PVC and designed in a way that they do not present the risk of tripping, as their floor elements are not bulky at all. Moreover, the system has a non-penetrative fastening, which means that during the installation the roof surface will not be damaged at all.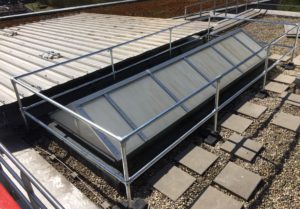 KeeDome is offered as a ready-to-install set, which makes an easy installation and uninstallation possible. The fall protection system is composed of vertical posts, hand and knee rails, tubular fittings and PVC special feet. The whole system can be assembled easily by putting together the individual elements. This makes the system not only highly time- but also cost-efficient.
The standard size is 2m x 2m. In case that your skylight differs from the standard size, we will find a special solution for you and we are going to adjust the system in a way that it meets your requirements.
Apart from the PVC special feet, the guardrail system is fully made out of hot-dip galvanized steel and is therefore 100% recyclable.
Furthermore, KeeDome complies with EN ISO 14122-3 and meets the standards predicted by the workers' protection law.
---
Short Profile:

Material:
Hot-dip galvanized steel
PVC

Certificate:
Declaration of conformity according to
EN ISO 14122-3
Span:
2m x 2m
Area of application:
Rooftops with a slope of up to 3°
Tube diameter:
48,3 mm
Assembly type:
Non-penetrative
Usage:
Permanent securing
Weight:
10 kg per special PVC foot
---
Downloads
Produktbroschüre KeeDome
Declaration of conformity EN ISO 14122-3
---
Go to KeeCover >>