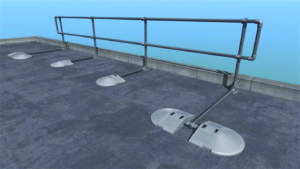 KeeGuard Foldshield completes the KeeGuard series. The freestanding guardrail system can be lifted into place and then be folded back – just as currently required.
Being folded flat on the roof, it is no longer visible. It is therefore the perfect solution if the aesthetics of a building are not meant to be spoiled by collective fall protection.
It is designed for flat roofs with a slope of up to 10 degrees.
The folding mechanism enables a discreet collective securing of areas. If only a desired area is meant to be safeguarded, the system can be raised and lowered in sections.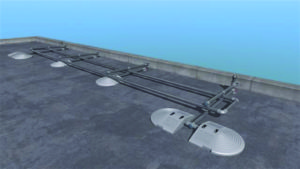 Due to the fact that the base foot of the guardrail system can only pivot in one direction, application errors are out of question. Moreover, a locking pin prevents the installed guardrail system from folding back down.
Counterweights enable a non-penetrative fastening of the system to the roof. These are made out of recyclable PVC and each of them weighs approx. 13,5kg.
Built-in carrying handles enable a quick and easy installation.
KeeGuard Foldshield is made out of hot-dip galvanized steel and is therefore fully recyclable. The used material is highly persistent to corrosion and therefore offers reliable protection.
It goes without saying that the guardrail system complies to the standards DIN EN 13374.
Tubular fittings are used in order to fully adjust the system to the given conditions. These factors enable an individual adjustment and allow the system to be combined with other guardrail systems from the KeeGuard series.
Even a combination of folding guardrail systems and non-folding guardrail systems is realizable.
---
Short Profile:

Material:
Hot-dip galvanized steel
PVC
Certificate:
Declaration of conformity according
to DIN EN 13374
Span:
max. 2,0 m
Area of application:
Flat roofs with a slope of up to 10°
Tube diameter:
48,3 mm
Assembly type:
Non-penetrative
Usage:
Permanent securing
Weight:
13,5 kg per PVC weight
---
Downloads
Produktbroschüre KeeGuard Foldshield
Declaration of conformity EN 13374
---
Go to Easyguard >>