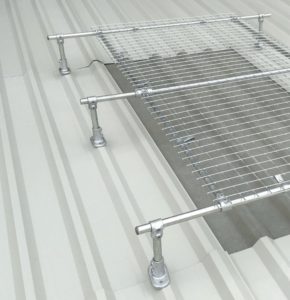 KeeCover from KeeSafety is an adaptable cover for skylights that need to be secured. It consists of a robust mesh panel and a metal frame that serves as mounting device. This makes the whole construction a reliable protection system against falls through unprotected skylights. The mesh panel will not block out the light which is supposed to get into the building through the skylight.
The standard size of KeeCover is 2m x 1m. We offer extension panels in different sizes so that they will fit perfectly to any kind of skylight.
KeeCover is the perfect solution for roofs that have a metal profile (such as trapezoidal and standing seam roofs); these are roof-types where skylights usually can be found.
In such cases the mesh panel can be installed easily flat to the roof.
Furthermore, there exists the possibility of installing the safety system on small legs to give a greater distance between the mesh panel and the skylight. In case of a fall, this version additionally protects the skylight from damage.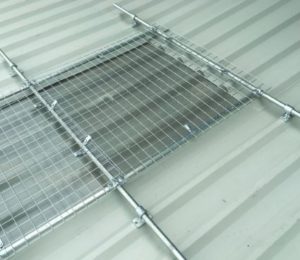 Another advantage of raised panels is that the protection system can be adjusted to variously shaped skylights.
As the individual components and tubular fittings can be pinned together easily, the installation can be done on-site and is highly time- and cost-efficient.
All components are hot-dip galvanized and therefore show an enhanced durability. Adding a colour coating to the tubes, it is possible to increase their visibility.
As a matter of course, KeeCover meets the standards DIN EN 1873.
---
Downloads
Produktbroschüre KeeCover
Declaration of conformity KeeCover
---
Go to KeeDome Mini >>