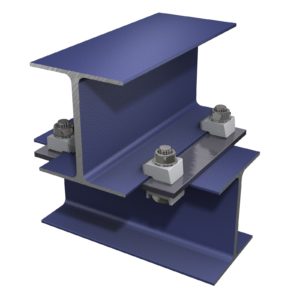 BEAMCLAMP from KeeSafety stands for a wide range of products including various clamp- and connection elements which are used for the safe fastening of additional steel components to already existing steel constructions (secondary steelwork constructions).
There exists a wide range of different fields of application, such as steel building constructions, process engineering, home and building engineering or material handling and material flow technology.
A special mounting plate serves as base for the clamp connections. This enables a safe fixing of the clamp to the flanges of the steel girder without the necessity of welding or drilling.
The coating of the surface will not get damaged during the installation and no weak spots will result from the assembly. This ensures that the whole construction will always stay intact.
There is no doubt that the simple assembly of BEAMCLAMP is another advantage. The installation is not only time- and money-saving, it enables a quick construction of heavy bearing steelwork-solutions as well. Furthermore, neither special-purpose tools, nor trained professionals are needed for the assembly of the products.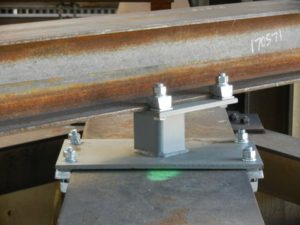 The single clamp connectors and beam clamps are made of spheroidal graphite iron. They are therefore hot-dip galvanized and resistant against corrosion. They are therefore perfectly suitable for a long-term outdoor usage.
It goes without saying that our products are tested extensively and legally qualified, amongst others from Lloyds Register & DIBt. They as well fulfill the criteria of the Product Safety Act.
All in all, BEAMCLAMP clamp connectors and beam clamps are superior to other conventional fastening systems. They make installations easier and obtain a low price.